You Need A PARTNER, Not A Service Provider.
There are a lot of agencies offering digital marketing services, and it's difficult for you to know who can execute and deliver results. Its also difficult to know if the person handling your account will be able to help you meet your goals. You don't want to be just one of many accounts and not get the attention you deserve. Our agency model is built different - we limit the number of accounts each specialist has to make sure we can deliver results. We offer a concierge-type service, working with you to make real progress towards business growth.
Our Pillars of Partnership
Transparency
We don't hide our processes. You'll see exactly what we are working on and have input and approval for what we execute. Our work is visible, meaning, you'll see what's being done. You can access data and analytics, meaning, you can view rankings, traffic, conversions, and important marketing metrics whenever you want to.
Effectiveness
Our process works by clearly defining the gap of where you are and where we need to go. This Competitive Intelligence is specific to you - your market and your services. We take the guesswork out of SEO and marketing by establishing a clear path to improvement, delivering case-study worthy results across many industries and scopes.
Intelligence
We craft solutions for each client, leveraging our assessments and Competitive Intelligence to identify actionable improvements. We prioritize strategies based on business goals and what is important to you, giving thoughtful consideration and strategy development that is cross examined by our marketing operations team.
Sustainability
Our strategies and tactics evolve based on real-time feedback of results, research, and Competitive Intelligence. We utilize an "evergreen" approach that gets better with time as we monitor competitive changes and changes in platforms (like Google, Google Ads, Facebook, etc).
Consistency
Our consulting and meetings follow a defined cadence of Progress, Results, and Opportunities & Insights (PRO). You'll see what we've done (Progress), how that worked (Results), and what to expect next (Opportunities). You have a voice and guidance in the marketing decisions and strategies.
Clarity
We provide deliverables and proof of work for what we execute (changes, research, improvements, content updates and refinements). You'll see the results grow over time with our up-to-date marketing dashboards. Monthly consulting meetings will keep you up to speed on marketing initiatives (with more frequent meetings are available).
Our Digital Marketing Services
From concept to implementation, we've got you covered.
Results-Driven Digital Marketing
Every campaign is built around your business goals. Traffic and rankings aren't the goals - sales and leads are. We tailor our approach to help you sell more of what drives your business. You get to prioritize what is important to you, and our team will put together a specific plan to get there. You'll be able to see the progress as we "stack wins" and help your business gain traction.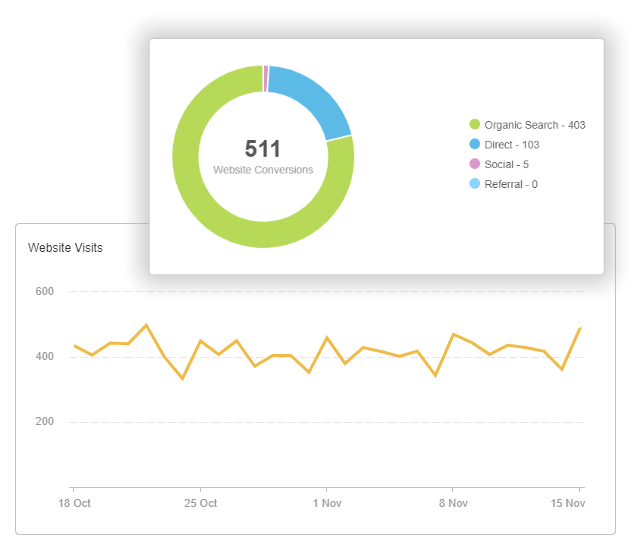 Add Digital Services to Your Business
Work from home (WFH) and social distancing have created the need to provide digital interactions and contactless service. SEOteric is helping business meet these needs.
We Build Digital Marketing Campaigns
Designed to Create Growth
BRANDING & AESTHETICS
Within seconds, prospects make judgements about your business based on your logo, photography, and overall look and feel. Your brand accumulates goodwill and will be a catalyst to how prospects perceive your entire business.
MESSAGING & CONTENT
How and what you communicate to potential customers will impact whether they become customers or not. A clear message and the right content that helps differentiate your brand is critical to converting interest into action.
ENGAGEMENT & CONVERSIONS
Are you engaging your customer base and potential customers? We can help create engagement opportunities through promotions, loyalty apps, emails, social media, website conversions, and content customization.