Atlanta Digital Marketing Services.
SEOteric has an in-house Atlanta digital marketing team built to meet the needs in an evolving digital space. From SEO to website design and video production, our team has the expertise to create campaigns engineered to deliver results and gain exposure in Atlanta. You'll get an account manager who can provide assessments, strategy creation, consulting, and implementation to keep you moving forward.
We are known for our SEO services, and we often pair SEO with other solutions like social media marketing and/or Pay Per Click (PPC) campaigns to drive both immediate paid results and a growth plan with SEO. We can also create a custom digital marketing strategy to fit your budget.
Talk With A Digital Marketing Consultant in Atlanta
The Full Suite of Digital Marketing
Services In Atlanta

Business Listing Management
Google My Business, Data Aggregators, and many more listing sites.

SEO (Search Engine Optimization)
Increase rankings for your targeted keywords to increase leads.

Website Design & Development
Beautiful website design, mobile responsive, fast and secure.

Google Adwords Management
Search, Display, and Remarketing campaigns for increased conversions.

Reviews Monitoring & Management
Monitor and respond to Google reviews from one dashboard.

Social Media Marketing
Get in front of customers on Facebook, Instagram, Google Posts and more.

Video Production & Advertising
Tell your story with video to capture the attention of your audience.

Lead Tracking & Management
Capture leads by channel, and funnel them to your CRM with lead routing.

Reporting and Analytics
Analytics and metrics for rankings, traffic, and your KPIs.

Consulting and Support
Support, education and consulting from our dedicated team.
Our Approach to Digital Marketing
Need Digital Marketing Services in Atlanta, GA? Start here. We don't make our clients sign long-term contracts because we don't want to "lock you in." We want our clients to want to stick around because of the results they are getting.
SEO isn't magic, and it isn't a quick fix. SEO done right is about becoming a better resource for your customers. Google wants to give its users the most relevant results, so our approach is built around helping you become a resource for your customers and earning better rankings.
Digital Marketing Services in Atlanta
Atlanta Website Design
Your website is the conversion point for most of your digital marketing initiatives, so it has to do an effective job of winning the confidence of your users. We'll help you solve the challenegs of speed, performance, usability, conversions, and beautiful design to create a website experience that will help you convert more Atlanta traffic into leads and customers. A website design project will cover:
Design meeting to discuss the direction of the project.
Design mock-ups for approval.
Updated front-end design with improved UX/UI layouts.
Mobile responsive for all devices.
Performance tuning with image compression, caching, and page speed optimization.
Customized backend for content management.
Conversion rate best practices implementation.
Training and support for website management.
Packages & Pricing for Web Design in Atlanta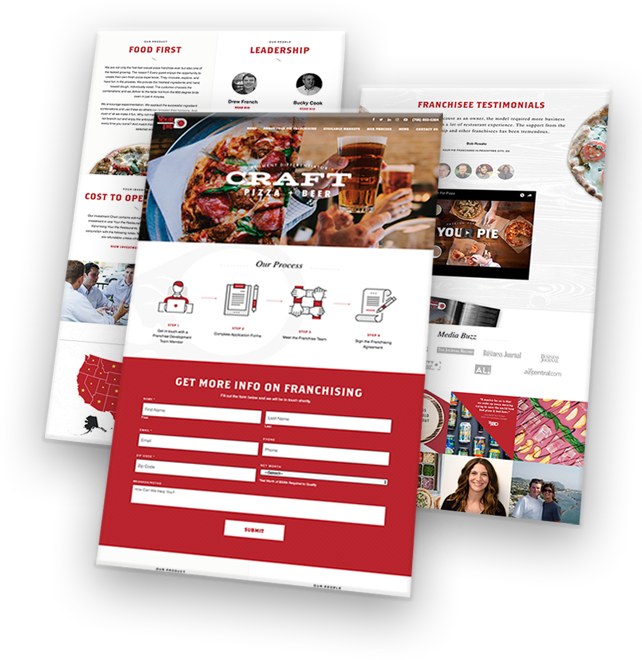 Atlanta SEO Services
Get your business ranked higher in Google for more local searches in Atlanta. The first step in getting better rankings in Atlanta, GA is to become a better "resource" for your users. We start by optimizing and expanding website content to better answer the questions your potential customers will have. This approach starts on the home page, and funnels down to product pages, service pages, category pages, and FAQs. A few highlights of our SEO service include:
Optimized code structure with structured data and meta data.
Image compression, optimization, names and alt attributes.
Optimized internal linking, site architecture, and content structure.
Full crawl and audit of the entire site, analyzing elements for issues and optimizing weaknesses.
Content development for new unique and in-depth page content.
Link profile audit, cleaning, and optimization.
Link acquisition to improve link metrics.
Business listing management and creation across the local ecosystem.
Get More Info and Pricing for SEO in Atlanta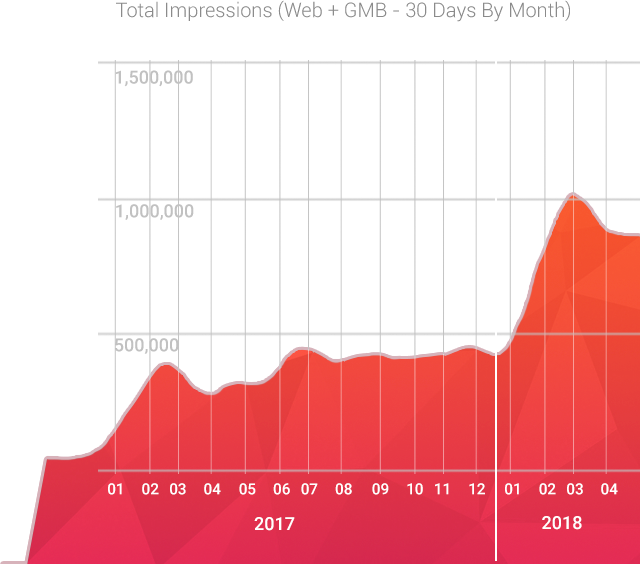 Real-Time Digital Marketing Analytics
What if you could combine keyword ranking data with website analytics? What if you could include social metrics and Google Adwords data? How about Google My Business Insights? Email analytics and open rates? Finally, you can compile ALL of your marketing data together in one place for a full picture of digital marketing for all of your Atlanta marketing initiatives. A few highlights of your dashboard:
Daily keyword rankings updates with historical trendlines.
Local business listing rankings by location.
Google Analytics integration for website statistics and conversion data.
Google My Business insights and actions.
Facebook, Twitter, and other social media analytics.
Mailchimp and email marketing analytics.
Google Search Console integration and data.
Links monitoring and history.
Full site audits and historical tracking for improvements.
Most data up-to-date in real-time, keyword rankings updated daily.
Trackable Conversions
SEOteric will create trackable conversion points throughout the search process using click to call, lead forms, and other custom event actions that promote engagement and lead to increased leads. You are wanting to grow your business in Atlanta, and you'll want to create better opportunities to convert visitors into leads and customers.
SEOteric can create clickable assets that could be tracked via Google Analytics to understand user behavior, and these insights were used to further optimize website content.
Tracking phone calls from the website from mobile users can show the engagement on mobile devices, where more than half of search traffic comes from.
Better lead generation and tracking helps produce and measure marketing ROI more effectively.