Franchise Development & Location Digital Marketing
Solutions Built Specifically For Franchises and Multi-location Businesses.
Seoteric helps franchise businesses attract potential franchisees and improve local store sales using localized digital marketing strategies. The top four things potential franchisees want to see in a franchisor is Product, Culture, AUV (average unit volume) and Net (Net profitability per store).
Our franchise marketing approach helps brands improve the attractiveness of their franchise offering by helping create more appeal around the product and culture, and by increasing store level sales metrics. We've helped franchise locations see a 300% or more increase in conversions and actions that lead to revenue opportunities. Our process helps each location increase organic SEO rankings in Google Maps (local listings) and organic listings. We also often pair this with Adwords and social media marketing to create a customized and local approach to each individual location.
Franchise Marketing Results That Affect Individual Store Sales
A SURGE In Google Impressions
As rankings for local maps and organic results increases, our impressions begin to build over time. The following chart shows impressions growth from the beginning of the campaign to May 2019. This franchise started with around 100,000 monthly Google impressions in maps and in search, and we've helped them grow to over 2.25 million monthly impressions in Google maps and search. This has a huge impact on location visibility and store traffic.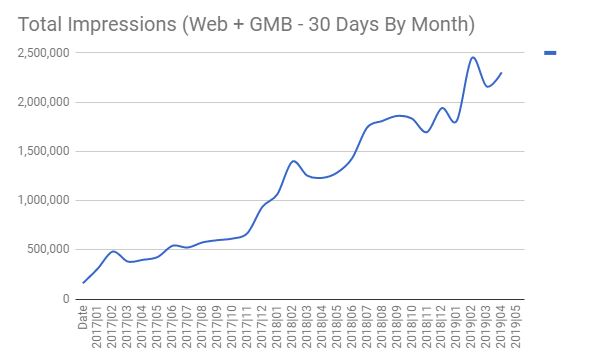 A SURGE In Google Actions
Impressions mean that users are seeing your listings, but actions are measurable conversion points that tend to lead to revenue opportunities. The growth in Google My Business actions has been remarkable, beginning at less than 5,000 monthly actions (with about 40 locations: 200 actions per month per location on average), to over 40,000 monthly actions (with about 70 locations: 570 actions per month per location on average). And this is only the Google My Business actions and does not include website traffic or website conversions.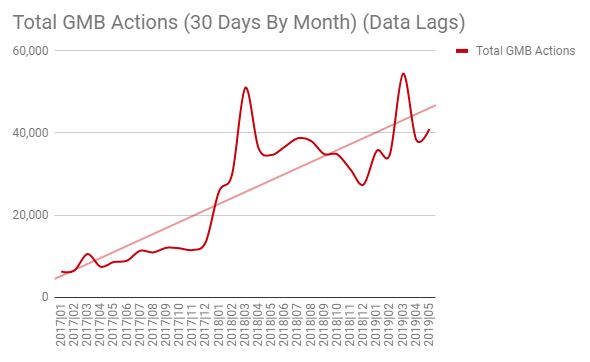 Our Process Is Designed to Deliver
4 Main Objectives:
Improve individual franchise location sales metrics for a healthier AUV.
Solve challenges related to data, brand consistency, and franchise campaign performance.
Create franchise lead opportunities for new franchise growth.
Provide a strategic partnership to keep your brand on the leading edge of franchise digital marketing.
The Full Suite of Franchise Digital
Services In One Place

Business Listing Management
Google My Business, Data Aggregators, and many more listing sites that matter.

SEO (Search Engine Optimization)
Increase rankings for franchise leads and for individual locations.

Website Design & Development
Get the web tools needed for managing multiple locations.

Google Adwords Management
Search and Display campaigns for both franchise leads and individual locations.

Reviews Monitoring & Management
Monitor and respond to Google reviews from one dashboard to make reputation management easier.

Social Media Marketing
Get in front of customers on Facebook, Instagram, Google Posts and more.

Video Production & Advertising
Tell your story with video to capture the attention of your audience.

Lead Tracking & Management
Capture leads by channel, and funnel them to your CRM with lead routing.

Reporting and Analytics
Analytics and metrics for individual locations and cumulative views.

Consulting and Support
Franchisor and Franchisee support and consulting from our dedicated team.
We Manage the Volatility of the Ever-Changing Digital Landscape
Volatility of Changes to Google Algorithm (2014-2018)
Digital marketing isn't just about the "right now" – but it's also about keeping up with trends and shifts in technology and processes. Google has become increasingly dynamic, with changes occurring more and more frequently. In 2018 alone, Google reported over 3,000 changes. These changes impacted local search, organic ranking signals, spam prevention, new results page features, structured data, featured snippets, knowledge graph data, Google My Business updates, and core updates. SEOteric monitors rankings daily and identifies how and when adjustments need to be made.
Why Is SEOteric the Right Fit for Digital Marketing for Your Franchise?

In-House Talent
Across all the major service offerings, our team has specialist in every area, including creative and design, website development, content creation, SEO and Adwords management, digital PR and social media marketing, and email management.

Experience Where It Counts
We've worked with franchises to help them gain traction like never before. We've seen the "industry playbooks" and tactics used, and we have proven processes that beat industry averages.

Access To Data
We set up each location or group of stores with their own analytics and marketing data, allowing individual franchisees to see their own store data, SEO rankings, conversions, and important marketing KPIs that are relevant to them.

Results-Driven Teams
Our focus is always centered around delivering results. We analyze competition and create strategies that catch and exceed their performance.