Franchise SEO Services
SEO Solutions Built Specifically For Franchises and Multi-location Businesses.
One of the challenges many franchises and multi-location businesses face is managing the SEO and ranking performance of all of their locations. Google makes a lot of changes each year to their algorithms, local ranking signals, and features within Google My Business. Keeping up with what is needed for each location can be a daunting task. That's where SEOteric comes in.
We specialize in local SEO, and we'll help you manage each location to get maximum SEO results for each location. We will help with content development, content optimization, technical SEO (like schema, structured data, etc), citation building, and Google My Business optimization. Our goal is to treat each location as its own unique campaign, giving us the ability to make each location unique, relevant and prominent in its market. We track each location with analytics to show how it performs as its own entity with a reporting dashboard for each location. This works great for independently owned locations, and for individual location data analysis and progression.
Fill in the form and get a free consultation on how SEOteric can help improve your individual location SEO.
Our SEO Process is Designed to Deliver 5 Main SEO and Ranking Objectives
Improve individual location page relevance and uniqueness.
Create accurate and individual local citations and links for each location.
Optimize and maintain Google My Business for each location.
Improve rankings in both maps and organic listings for each location.
Provide analytics and reporting for data analysis for each location.
We Manage the Volatility of Google's SEO Ranking Factors

Volatility of Changes to Google Algorithm (2014-2018)
Franchise SEO isn't just about the "right now" – but it's also about keeping up with trends and shifts in technology and processes. Google has become increasingly dynamic, with changes occurring more and more frequently. In 2018 alone, Google reported over 3,000 changes. These changes impacted local search, organic ranking signals, spam prevention, new results page features, structured data, featured snippets, knowledge graph data, Google My Business updates, and core updates. SEOteric monitors rankings daily and identifies how and when adjustments need to be made.
A SURGE In Google Exposure
As rankings for local maps and organic results increases, our impressions begin to build over time. The following chart shows impressions growth from the beginning of the campaign to May 2019. This franchise started with around 100,000 monthly Google impressions in maps and in search, and we've helped them grow to over 2.25 million monthly impressions in Google maps and search. This has a huge impact on location visibility and store traffic.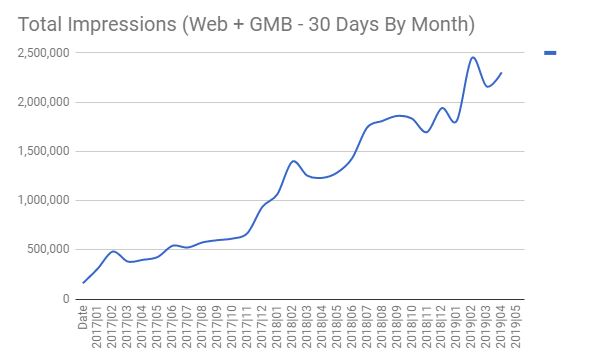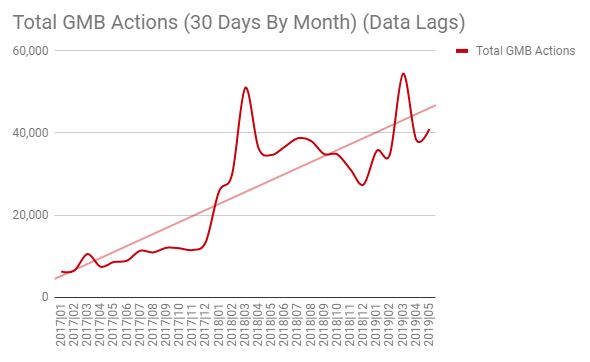 A SURGE In Google Actions
The mark of a successful digital marketing campaign is when individual franchise locations see the benefits. Across the board, each location began to see the number of actions and conversions increase, resulting in new location visits, phone calls, and growing revenue. Getting ranked in Google My Business for the search keywords that drive actions is a big part of a successful SEO campaign.
Google My Business
One of the most important aspects of local SEO is optimizing Google My Business. Getting ranked in the top 3 in maps produces a lot of opportunity for a local business. Ranking in Google Maps is a combination or proximity to the searcher, relevance and prominence. Proximity can't be influenced, but relevance and prominence can. Relevance means your local business is relevant to the keyword, category, and products/services searched for in the area. Prominence is the strength or importance of a business which is influenced by citations, reviews, links, the website linked to, comprehensiveness of the profile, and brand signals. We'll work with each location to improve the relevance and prominence to improve ranking potential in Google Maps listings.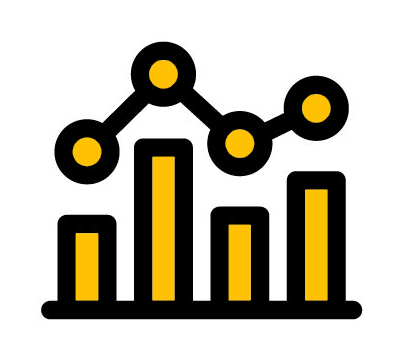 Location Pages
Location pages are an often overlooked part of local SEO, especially for brands with a lot of locations. Location pages tend to be structured in a way that makes them near duplicates of each other. In order for each location to have its own relevance and prominence, we work to make each location page unique by adding and optimizing content, images, structured data, schema, and other on-site signals to improve the overall uniqueness and individual relevance. This can be increasingly challenging as the number of locations increase, but it can create a great return when implemented properly.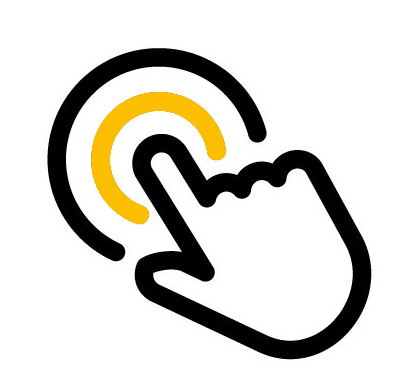 Local Links and Citations
Local links and citations pointing to the landing page for each location helps boost the categorical and local relevance for each. We target the top tier local sites (Google, Yelp, + 40 or more) as well as the big data aggregators (InfoGroup, Axciom, Localeze, etc). We also target local and niche citations, which are local links from websites specific to a local market or industry. This approach to local citations gives us a great mix of major players, aggregators, and locally targeted citations for a hyper-relevant approach. When implemented for each location, the SEO ranking ability of each location is greatly improved.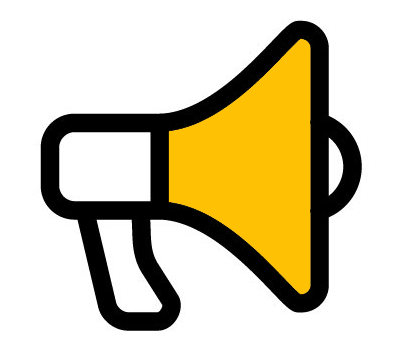 Analytics and Reporting
One things we hear from our clients is that apart from the results we get in SEO, the dashboards and analytics are the favorite feature. We enable a dashboard for each location, giving you a view of each location's specific performance. That include keyword rankings, traffic, conversions, and Google My Business actions. These insights give a great look into each locations overall heath and performance. For individually-owned locations or franchise locations, this approach to SEO reporting gives them a sense of control and insight into their return on investment. It also shows how the franchisor is investing in their location so they can watch along as improvements are made, rankings increase, and conversions and revenue grows.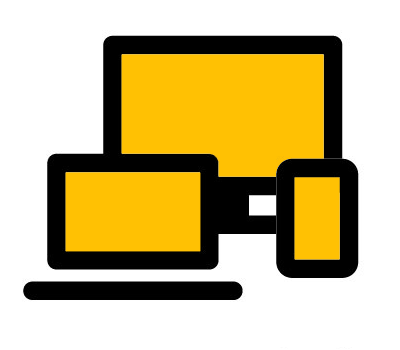 Looking For More? We Offer The Full Suite of Franchise Digital Marketing Services

Business Listing Management
Google My Business, Data Aggregators, and many more listing sites that matter.

SEO (Search Engine Optimization)
Increase rankings for franchise leads and for individual locations.

Website Design & Development
Get the web tools needed for managing multiple locations.

Google Adwords Management
Search and Display campaigns for both franchise leads and individual locations.

Reviews Monitoring & Management
Monitor and respond to Google reviews from one dashboard to make reputation management easier.

Social Media Marketing
Get in front of customers on Facebook, Instagram, Google Posts and more.

Video Production & Advertising
Tell your story with video to capture the attention of your audience.

Lead Tracking & Management
Capture leads by channel, and funnel them to your CRM with lead routing.

Reporting and Analytics
Analytics and metrics for individual locations and cumulative views.

Consulting and Support
Franchisor and Franchisee support and consulting from our dedicated team.