SEO Training & Consulting
SEOteric provides SEO training and consulting for businesses with internal marketing teams that want to learn the ins and outs of creating and executing a successful SEO campaign. Our training can be broken into multiple sessions based on the scope and scale of the marketing initiatives, or we can cover the basics over a half day to a full day.
Our training follows the outline of the four major pillars of SEO, and covers project management, tasks management, workflow management, and SEO tools and utilities needed to properly execute an internal SEO campaign.
At SEOteric, we use nearly $2000 worth of monthly subscriptions in SEO management tools and utilities, and many companies find that outsourcing to us often makes financial and logistical sense. However, for established marketing teams or for business that want to build their own internal team, we want to help you succeed.
Our training can cover technical SEO, content and landing pages, keyword research, link building and authority building, local influence and ranking factors, reviews acquisition, engagement improvements and conversion rate optimization. We also provide consulting on Adwords, Email, and Social Media Marketing as an add-on service for teams that want to take on more digital marketing strategies.
Some of the topics covered in our SEO training and consulting are outlined below.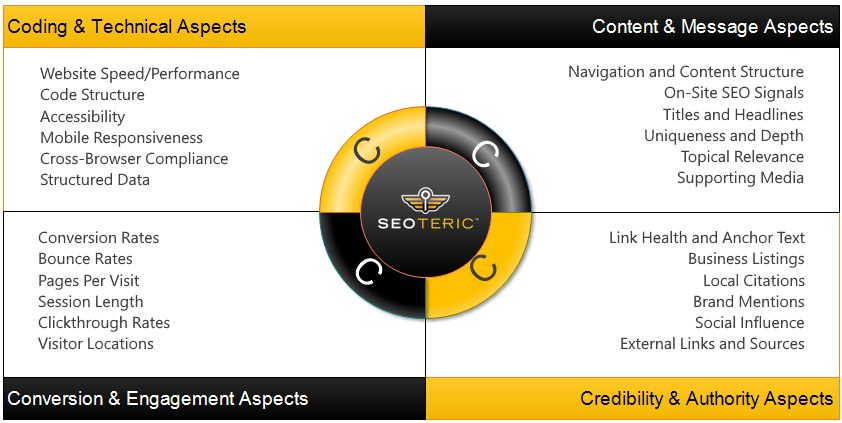 We also offer a broader consulting approach with more of an open forum for multiple topics with our General Digital Marketing Consulting. General Digital Marketing Consulting is purchased in half day or full day intervals. Our marketing strategist(s) will met with your team and discuss the challenges and opportunities you face in marketing, and develop strategies and training to meet the business objectives.
Pricing
Training and Consulting pricing varies greatly with the size of company, marketing scale, the size of the team, and the depth of training and consulting needed. As a general starting point, half day training and consulting starts at $1200 ($300 per hour). Full day consulting is $2400 per day. For specific needs, please fill out our contact form with your needs and we can get you a quote. Some companies have asked for help managing specific needs such as business listings, and training can be done usually in 1-1.5 hours for smaller topics. E-commerce SEO is much more in-depth, and may require multiple days for larger websites.
Deliverables
Our training and consulting (depending on size and needs) may include a full website audit, keyword research and search volume analysis, link profile health and analysis, action items for technical issues, action items for content optimization and page development, action items for link building and authority building, and conversion rate optimization analysis and best practices action items. We also provide training on Google Analytics and key performance indicators. We also will make recommendations on software, tools and utilities, and project management utilities.