Introducing Our New Franchise Location Website Solution
There are some unique challenges that franchises face that have a lot of locations. They need better tooling to manage their location pages and a way to improve the SEO ranking ability for their individual locations. One of the issues is that the existing solutions for managing location pages limit the ability for custom content, uniqueness, technical SEO, and easy management.
We set out to build a solution in WordPress that allows us to tackle these challenges, and gives us the flexibility to add what we wanted like the ability to extend the solution to subpages, market pages, and individual location pages. To do this, we first created a model of what a fully developed location page should have and then developed a solution to manage that content in WordPress using custom fields and custom post types.
Executive Summary (TL/DR)
SEOteric has built a franchise website solution for WordPress with custom fields and custom post types to allow us to have a unique landing page offering. This solution allows for custom content, location pages, market pages, location sub pages, and better tracking of conversions and actions for reporting and dashboards. These location pages have a custom admin for easy administration, with a custom design to fit your brand. Even the features can be customized based on the needs of your organization. Other solutions were too rigid and incomplete for what we wanted to do with SEO and user experience, so we built something we could use. You can see more on our franchise digital marketing solutions to see the big picture for franchise marketing.
The Backend
Tabs for Easy Content Management
First, we wanted a way to customize and manage the content. That would involve creating custom fields in a custom post type to allow us to set up an administrative area that was more intentional and customizable. We created tabs for each page section with options to include "standard" content or custom content. One example is the slides used in the slider. This can be imported from the main slider, or you can customize your own for your location. This feature can be used to highlight local sales and events specific to a location.

Location Status & General Info
Other unique features allow for managing store statuses, like coming soon and recent openings to highlight those in the location search. Editing and managing store attributes and contact info is more streamlined, with a place to put your store-specific menus, delivery options, review links, and online ordering links.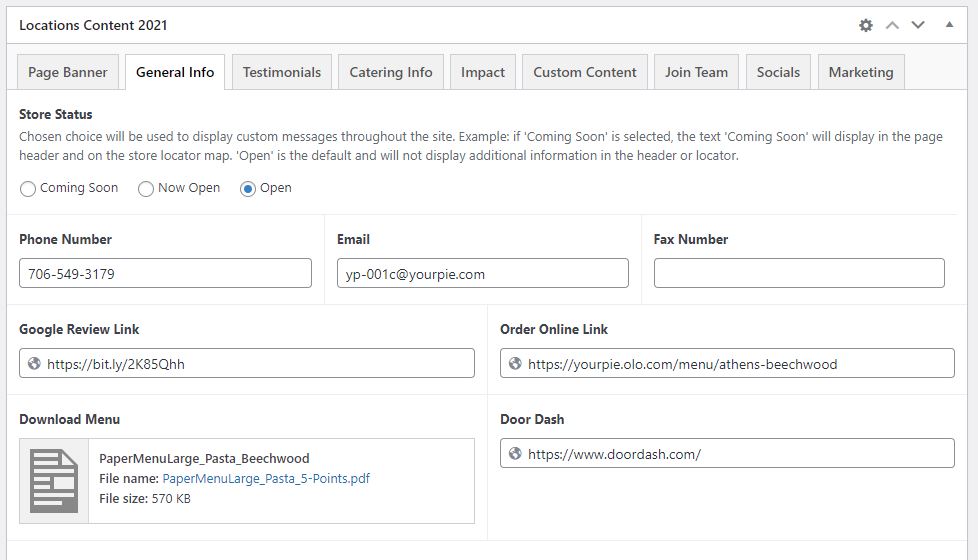 Store Hours
You can also keep store hours up to date with a granular approach and include special hours for holidays and special events.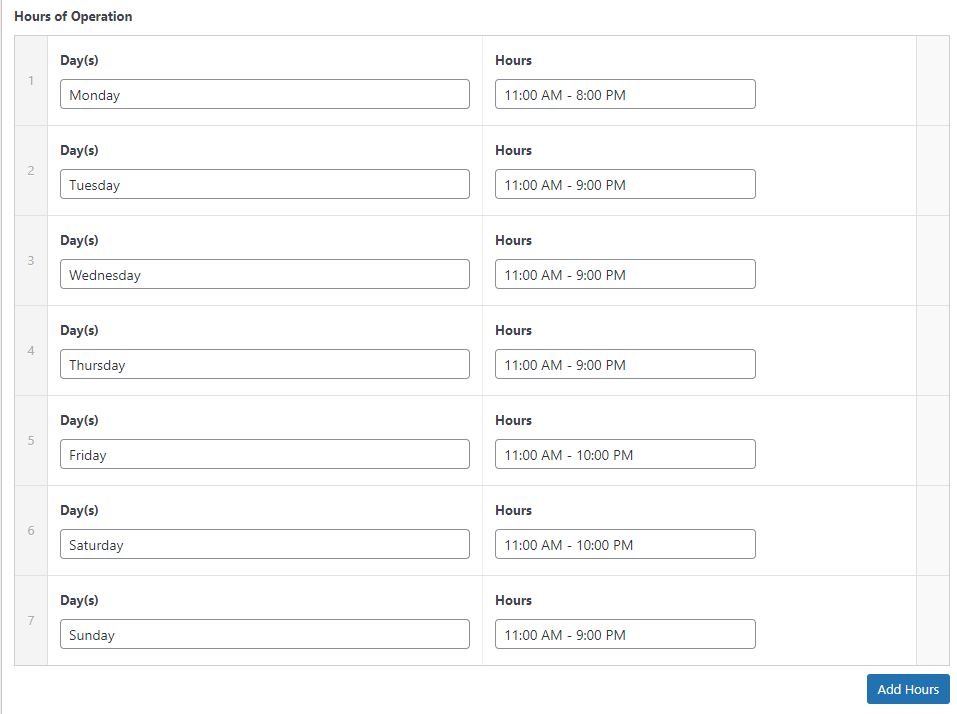 Location Amenities
One of the most requested features was the ability to manage and customize location amenities like "kids eat free" or dine-in, delivery, or carry-out options. We built a solution to allow each store to customize their amenities options and list what was important to them, outside of the standard amenities.

Custom Content
The custom content section is a WYSIWYG editor for the main content area, as most CMS platforms have. This allows you to create an introduction to your location with unique messaging per store and per market.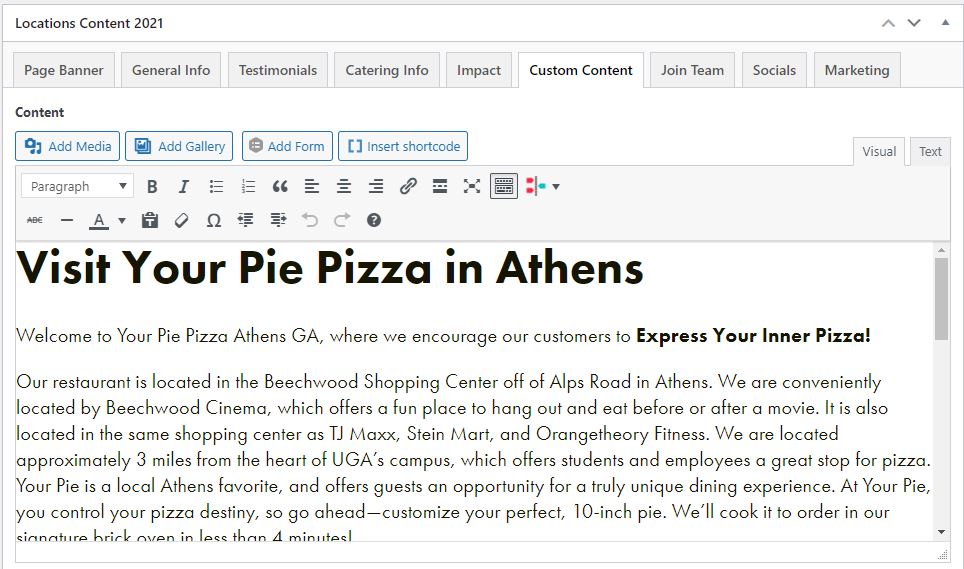 Custom Features
The Custom Features section allows you to build out a grid of highlights for your locations with an image and description of the things you want to point out about your location. This grid is 3 across on desktop, and 1 per row on mobile, giving a great walk-through experience of your location. You can add as many features as you like.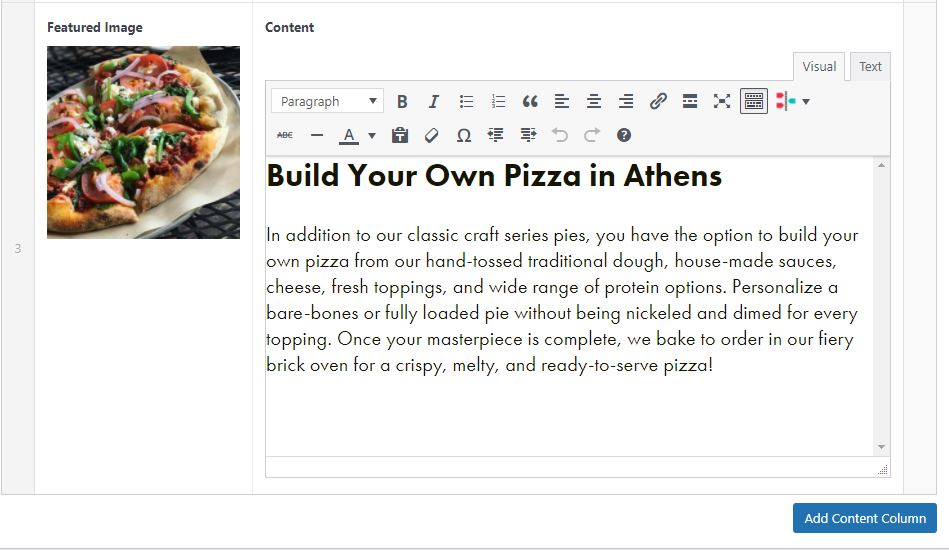 Marketing Built In
We've also added marketing features to allow easy adaptation for marketing scripts (analytics, tracking, conversions, etc) to the head and to the body of the landing pages right from the admin area. This helps speed up marketing implementations without needing to write code to the website templates.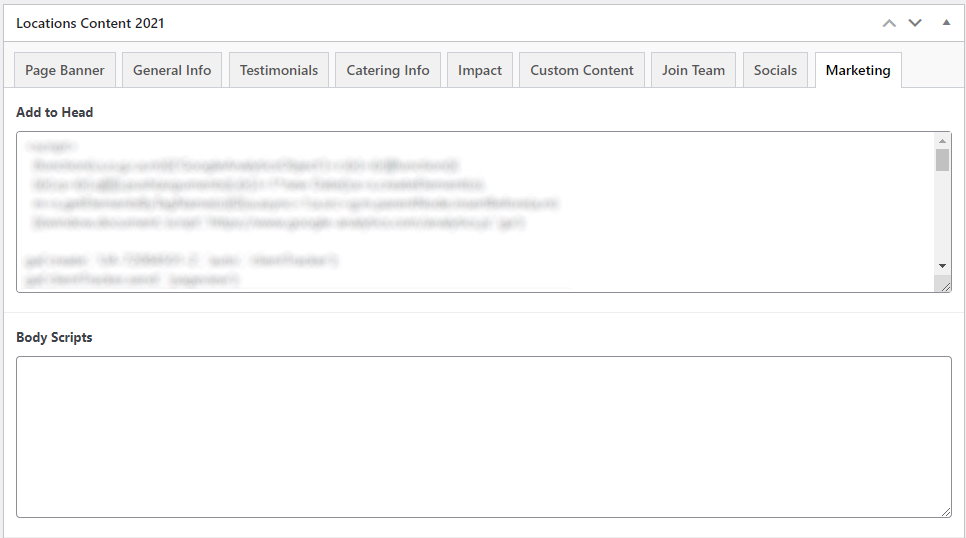 On-Page SEO
There is also a specific area to update the location page title and meta description, as well as other SEO parameters as needed.

Local Schema
Speaking of the code templates, we've optimized the templates with metadata and schema.org markup automatically that generates based on the store's information, meaning, it's always up to date and accurate.

The Front End
Location Pages
Now that we have a model for managing and customizing content, the next step is to create a visual design layout that enhances our brand and gives the user what they need. Easy conversion points. Contact information. Differentiation. Call-outs for hiring. We work with the brand to create a layout that highlights things based on priority.
This process typically involves a design meeting to get the wireframe ideas from the brand, and from there, SEOteric creates an initial mock up of the design. This gets refined until approved, and then goes into development. You can preview the desktop and mobile views of a restaurant location page below.


Market Pages (Categories)
For franchises with multiple locations in a city or market, we've developed "market" pages, allowing a landing page to highlight all locations in a market. This is a great solution for both SEO opportunities and user experience. Each market page is equipped with a map of the locations in that market, as well as a grid with links to each location. This funnel approach helps users get to the right location.


Location Sub Pages
The ability to have additional location sub pages was another important feature. This would allow a franchise location to highlight their team, emphasize a service, or create specific landing pages for ads. This new hierarchical feature gives more flexibility for segmenting content as needed. This feature can also be extended to allow location-specific blog and news features depending on how deep each location wants to go with its own unique content.
Conversion Tracking
This franchise location platform allows us to track conversions at a global level (site-wide) and at the individual location level (specific page conversions). This is important for several reasons. It gives us a great cumulative view of the conversion actions as a whole but also allows us to see the actions and conversions on a specific location page. These actions are then compiled for reporting.
Results and Impact on Rankings
With a recent rollout of the franchise location pages framework, we've seen a huge impact on location pages' ability to rank. One franchise with 30 locations saw incredible rankings increase in the first 60 days after rolling out this platform. Each location also has an individual SEO campaign designed to help leverage these new pages for maximum visibility. Below is a look at the cumulative affect of rankings improvements for the bran in just a 60 day period.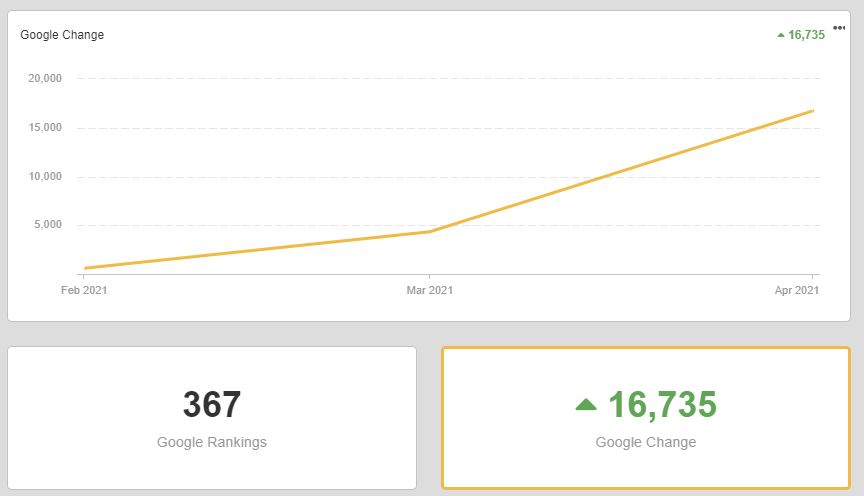 We can also track the performance of rankings of an individual location. One location highlighted below saw a 1200 position increase in rankings over the 60 day period.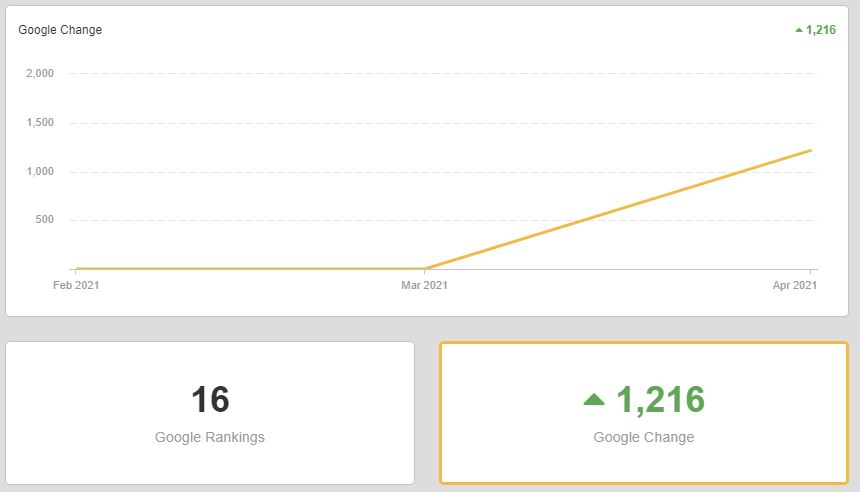 Individual Reporting
One of the most requested marketing features outside of landing page improvements was the ability to have a marketing dashboard specific to a location. Each location can now have a dashboard with only their marketing information. Traffic, conversions, rankings, Google Ads data, and even social data can be merged into a single dashboard view for easy location-specific reporting.
Below is a screenshot of one of the dashboard sections. We like to highlight conversions by channel (where conversions came from), and traffic by channel so we can see where traffic comes from. Our dashboards are customizable to the views and data important to your brand, giving you access to the KPIs you want and need.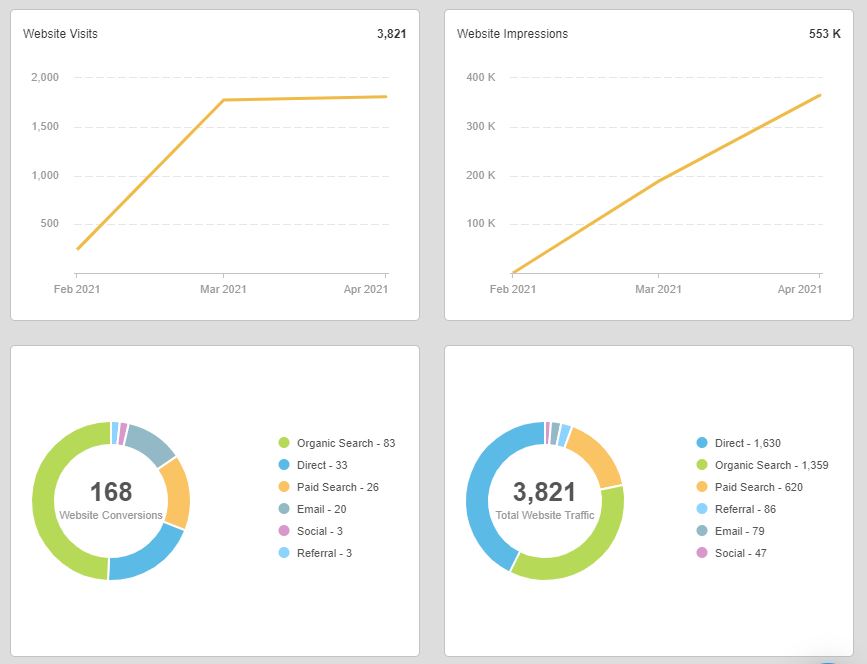 Getting Your Franchise Locations
If you are interested in getting your franchise location pages up to speed and leveraging SEO, fill out the form below and let's get connected. You can also see more on our franchise digital marketing page about our full offerings for franchises.