Factor Fiction: Why Isn't SEO A One Time Thing?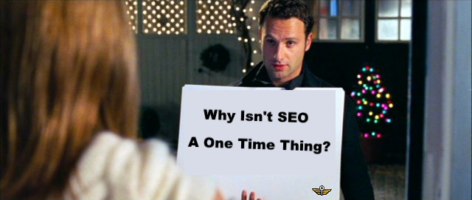 Welcome to our new web series:
Factor Fiction
This series will be discussing theories, myths, questions, and common misconceptions about the digital marketing industry as well as Google's ranking factors.
Let's jump right in.
---
In our inaugural post, I thought it would be great to discuss a question which we often get asked:
"Why isn't SEO a one time thing?"
Some clients ask us this verbatim. Others do so indirectly by inquiring about the need for their ongoing marketing retainer. But a majority of people think it at one time or another.
And I get it. Everyone – no matter what your doing – wants maximum output for minimum input. Unfortunately, that is not how things work most of the time.
Expecting great results from a one time SEO "fix" is like expecting to win the lottery; which is, if you are wondering, a 1 in 292 million chance.
Your odds of getting a positive ROI from the lottery are slim so instead of an one time SEO update you say you will update your SEO once a year instead; i.e. buy two tickets. Better odds right?
Surprisingly, no. In fact, your odds actually get worse, and they only shift in your favor if you buy hundreds of thousands or millions of tickets. Check out this CNN article for an eye opening read.
And if that does in some way help you win the lottery, just remember who referred you there.
But Cole, despite the odds people do win the lottery…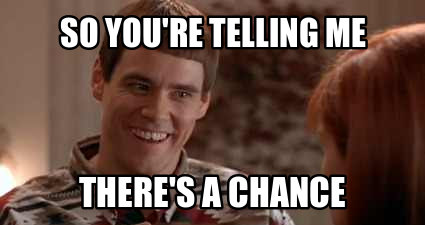 Yes they do; just like there are a small percentage of companies where a one time SEO update makes sense.
So now the questions become:
Why is one time SEO right for some and not others?
How do I know which category I fall into?
Before we dive in, a brief update on what SEO is:
SEO is a marketing strategy focused on growing your company's visibility in the organic (non-paid) search engine results. It encompasses both the technical and creative elements required to improve your website's rankings, drive traffic, and increase awareness in search engines.
See the completely random search engine ranking page below as an example.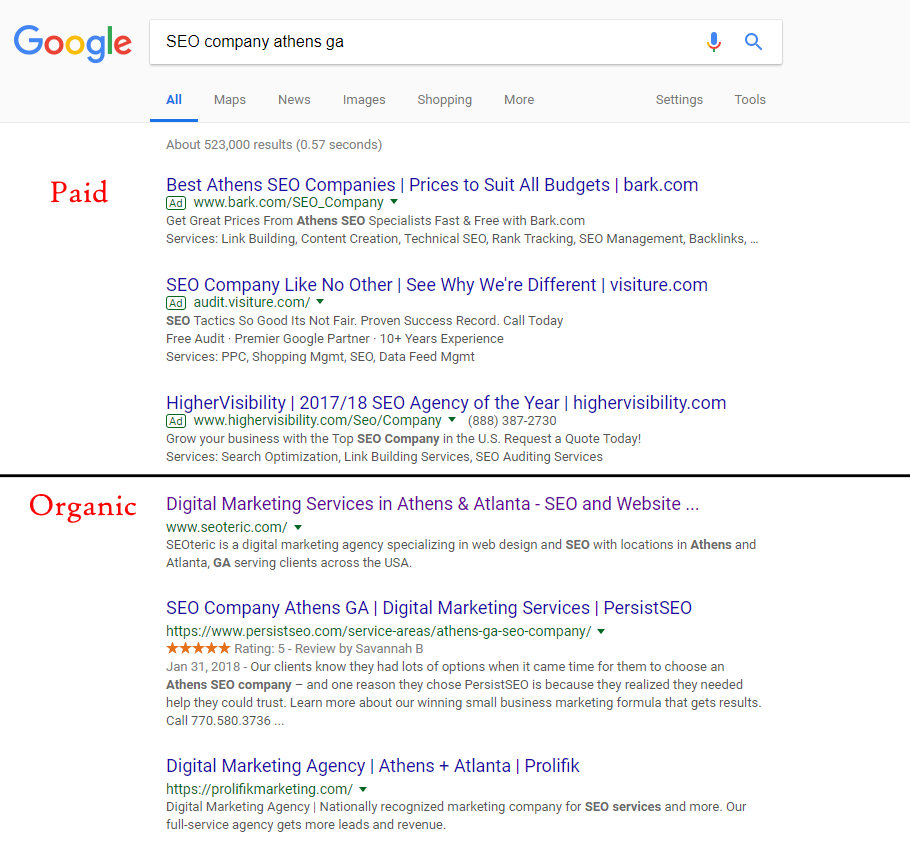 Now that we have a better understanding of SEO, let's get back to our discussion by looking at the other side of the equation first:
Why is SEO an ongoing process for nearly every business and industry?
#1 – Search Algorithms are Updated & Refined
How often do you think Google changes their search algorithm?
Once a year?
Twice a year?
Fifty times a year? Not even close.
| Google changes their search algorithms between 500-600 times a year.(1)
And some have said that the actual number is in the several thousands.(2)

Google makes these changes to its algorithms to ensure fairness in its web search results.
Search engines are built to serve people, and as our behavior changes, search engines also evolve to keep up with our wants and needs.
Given that Google has an average of 63,000 searches every second of the day(3), even the smallest changes to their algorithm can have a massive impact on any given site.
While most of these changes are smaller in size and scale, Google will intermittently create and implement a major algorithmic update.That is why when you are looking for a digital marketing company or wanting to do SEO on your own, it is important to stay on top of these updates because their effects can be significant no matter the size of your company.
These updates can even be devastating if you employ unethical tactics or "black hat" SEO strategies. People often try to find loopholes in the algorithm to exploit. However if you get caught, the results can cost you millions. Read about JC Penny's Link Scheme Scandal.
It is your digital marketing provider's job to be as proactive as possible in regards to the changing landscape. Those in this industry need to monitor spikes in traffic, SERP's, link qualities, and a plethora of other factors and sources to identify a potential update.
At SEOteric, we are constantly watching the digital horizon and anticipating these changes.
We watch your back so you can focus on everything else.
#2 – Competition Evolves
When Amazon started, they only sold books.
Apple was just two guys in a garage making illegal boxes that manipulated phone networks.
Stora Enso, the world's oldest company, started out as a copper mining operation out of Finland in 1288. Now, they are a market leader in bio-energy and global renewable materials worth $9.5 billion as of May 2017.
These examples are reminders that your competition tomorrow might not necessarily be the competition that you have today. To stay competitive in today's ever changing environment, you have to change with it.
Your competitors are constantly striving to out work, out maneuver, and outperform you and others in their space. If you are not striving for the same, you might get left out in the cold.
What are you doing to either maintain or increase your position in the search engines?
Because getting comfortable can become costly when you stop innovating and updating. Blockbuster is the renowned cautionary tale.
Do not get caught unprepared and wondering where your customers went. Utilize your marketing team and have them perform regular S.W.O.T analysis on your competitive environment to help identify Strength, Weaknesses, Opportunities, and Threats.
#3 – User Behavior Changes
Do you know how your customers are finding you and the answers to their questions?
As marketers, it is our job to keep up, understand, and be proactive towards our dynamic industry. Here are some metrics about the digital marketing environment in 2018(3):
About 50% of all searches are four words or more.
Two seconds is all companies get when it comes to website load time. Anything longer increases bounce rates by 50%.
About 50% of the websites on Google's front page are in HTTPS. 84% of people will abandon a purchase if they are dealing with an unsecured website.
Video content is 50 times more likely to drive organic search results than plain text will.
2017 saw the rise of voice searchers soar to 60%. That is a 3400% increase from 2008.
People are accessing 69% of their media on their smartphones.
57% of all mobile users will not recommend a business if their mobile website is poorly designed or unresponsive.
38% of marketers are publishing content at least once a week.
Understanding how your customer searches, their intent, and what content creates the most engagement will allow you provide them with the most useful answer to their questions.
Otherwise, choosing not to could leave them wishing for more.
So, who is one time SEO right for?
There are some people who only need one time or annual SEO updates. If your company can answer "Yes" to each of these eight questions, you may be spending money with an ongoing SEO campaign that you could spend elsewhere.
Are you in a smaller market of potential buyers (usually under 30,000)?
Do you have less than two or more competitors in or around your market?
Do you have a large word of mouth and referral system?
Does your company have a strong brand presence?
Is your website used more for internal purposes rather than for external or lead generation?
Is your website older than one year?
Do you feel confident that 2017 was a great year for your sales and that the trend will continue?
Do people view you as a resource?
If you answered "No" to any of these, it is very likely that some form of digital marketing would benefit your business. Because whether you are a brand new company, or a Stora Enso; a new age of marketing is here that requires an intentional and deliberate online presence.
Take a look at some companies that are not thinking about their digital strategies:
Thoughts for the Road
Imagine that you are going on a trip. You stop at the biggest gas station in town to fill up the tank and grab a snack before you head out. You walk over to the food section to choose your treat. Maybe you are a candy person or maybe you just want some chocolate. Whatever the choice, you have numerous options in front of you. You grab your snack and check out.
What if I told you that while you were scanning the isles for your treat there was a comparable, even better product in the back room just waiting to be bought?
Would you have reconsidered your choice? Of course you would.
The point is that you cannot buy what you cannot see – even if it is better.
93% of all online experience start with a search engine. Today, the first result in Google gets 23.5% of clicks, and only 7% of searches get to the third page of Google.(3)
Your website should be your Head of Sales & PR. But before potential customers buy your product, use your service, or interact with you, they have to find you and know who you are.
So, is SEO a one time thing? Let's do a quick search:
Consult with a digital marketing company today on how to increase your visibility and validity online, become a resource for your customers, drive website engagement, and grow your business.
Or call me. I would be happy to help.
---
Thanks for reading our first Factor Fiction, we hope you enjoyed it.
Make sure you subscribe to get a new episode every month straight to your inbox.
-Cole & the SEOteric Team
---
Sources:
Google Algorithm Change History
https://moz.com/google-algorithm-change

Google Algorithm Updates – Latest News & History
https://www.rankranger.com/google-algorithm-updates

Digital Marketing by the Numbers: Stats, Demographics & Fun Facts
https://www.omnicoreagency.com/digital-marketing-statistics-2018/