Cyber Monday Marketing Toolkit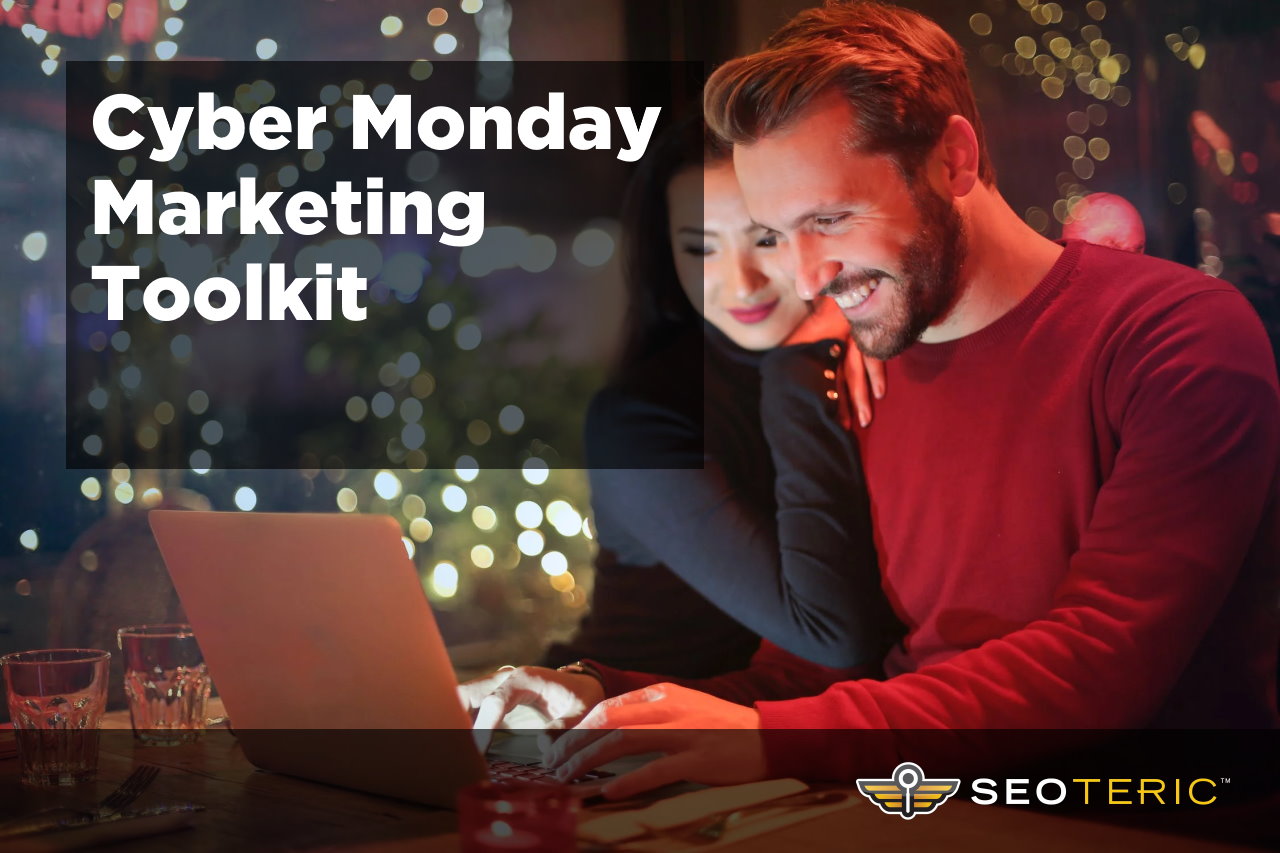 "Cyber Monday" is one of the biggest online shopping days of the year. Where "Black Friday" is traditionally an in-store shopping day, Cyber Monday is a boost for online retailers. Cyber Monday first became a $1 Billion dollar sales event in 2010, and has continued to grow since. Most retailers see a boost in sales between 20-100% on this day, with larger retailers claiming even larger numbers.
In order to have a successful Cyber Monday, it takes some planning and proper strategy. We'll cover some of the basics for online retailers to be set up for success on Cyber Monday.
Cyber Monday Marketing Best Practices Marketing Toolkit
In order to capitalize on Cyber Monday, online retailers have to do a few things well. You have to 1) be able to be found online, 2) have clearly indicated Cyber Monday deals, 3) be competitive on pricing with the market for your products/services, and 4) have good to great "offers" or specials for a limited time. We will do a quick dive into each area to give some guidance on what it takes to have success.
Executive Summary (TLDR)
Plan ahead and advertise so people can find you.
Put your deals together on a single landing page.
Make sure your pricing is competitive for the sale.
Create urgency with the limited time deals.
Being "Found" on Cyber Monday
Getting found on Cyber Monday takes a lot of planning ahead of time. Marketing and advertising should be started in the 2nd quarter to meet 4th quarter goals. Cyber Monday often spills over into Cyber "Week" and can even boost sales all the way up until Christmas. At a minimum, online retailers want to have advertising campaigns set up to run during the shopping season, with a budget dedicated to the week of Cyber Monday. Most will start advertising a few days prior to Black Friday and have their campaigns run through Christmas.
Advertising campaigns can be done in search (Google Ads and Bing Ads) and social media (Facebook, Instagram). Ad campaigns have helped many of the small businesses and companies to thrive in business. Search campaigns give you a chance to compete for searches directly related to what you are selling, and can be a great way to attract new customers. You'll likely pay more per customer because of increased advertiser competition, but if you look at it from a "lifetime" value perspective, customers won on Cyber Monday can be added to other marketing channels like email marketing to earn repeat business. The cost per customer acquisition is higher, but the benefits often outweigh the additional costs.
Social Media advertising gives you the ability to reach potential customers that are likely to want or need what you are selling. Demographics and interest targeting can help you narrow down the advertising to reach your target audience. Social ads are often less expensive than search advertising but lack the established intent to purchase that search ads have. If people can get Graphically services, it would be great for the website.
If you aren't using email marketing, it's time to dust off the email database and put it to work. Your existing emails can be a gold mine of opportunity when put to good use. Send your contacts some "sneak peaks" ahead of time, and maybe offer discount codes via email. You'll build some goodwill, and hopefully, begin to segment your email list into more active customers. Getting found isn't just about advertising – it's about visibility – so use all the tools you have at your disposal.
Don't overlook your web hosting either. The last thing you need is to pay for advertising and get people on your website only to have it crash under load. If you are serious about your online business, then be serious about its hosting. Make sure your website can scale with traffic demands, and that it has some level of caching in place. Caching can allow multitudes more requests per second during traffic peaks, and help keep a site up under load.
All of these tactics require some thought and planning ahead. If you missed the mark this year, you can start looking towards the upcoming opportunities in the future.
Have Clearly Defined Cyber Monday Deals
If you have special offers for Cyber Monday (or any other special occasion for that matter), have a special landing page for those and put them together. Sites built using popular shopping platforms like Shopify or WooCommerce have the ability to add products to categories or collections. Create a specific category/collection and add your Cyber Monday deals to it. Optimize it for SEO with a unique title and description and some unique content, then highlight that page in the navigation, banners, and callouts. This gives you an easy way to run ads to a specific page, or add links to social media and emails. Your users don't want to have to hunt for deals, so deliver the best deals in a single landing page.
Have Competitive Pricing
Your Cyber Monday deals have to be competitive, and better than everyday deals. This takes a little market research to see what other advertisers and competitors are doing. Pricing is one of the more difficult aspects of e-commerce, as you have to protect your margins and profitably. Some retailers have the advantage of bigger discounts and better sourcing just because of their size, and you may not be able to compete with every Amazon deal or Walmart Special. However, there is a place for boutique shops and local buyers. Your advantage is your ability to be nimble and detailed. If you can't win on price, make sure you are at least competitive, then work on providing as good of a shopping experience as possible. That means service, product images, descriptions, reviews, comparisons, and product/service education. You can often win in these areas, and many consumers will seek out a positive shopping experience.
Have Great Offers for a Limted Time
Nothing drives sales like the FOMO (fear of missing out). That's the magic of Cyber Monday. Many consumers will wait for the opportunity to same a few percentage points on purchases. Send your deals ahead of time to your contacts via email, advertise the sales so people can find you, and give them the limited time offers. This approach can be used at other points throughout the year. You see this in action for Father's/Mother's Day, Memorial Day, Independence Day, and other major holidays. If you create the urgency and opportunity for sales by offering "limited time offers" then you typically see an increase in sales as consumers take advantage of the opportunities.
Closing Thoughts
We often hear from businesses wanting to jump into Black Friday or Cyber Monday deals, but they often get started too late. To capitalize on major spending days, you have to have time to plan and execute a strategy. Especially in organic channels like Search Engine Optimization and organic social media. Those can take months to gain traction. Paid advertising can be executed faster, but still requires some planning, landing page development, and implementation. Start thinking ahead of how you can use limited-time offers like Cyber Monday to increase your online sales. And when you need help, SEOteric is available to give guidance and support. If you need a digital marketing partner to help with these areas, you can give us a call at 800.314.4736.