2021 Digital Marketing SEO Recap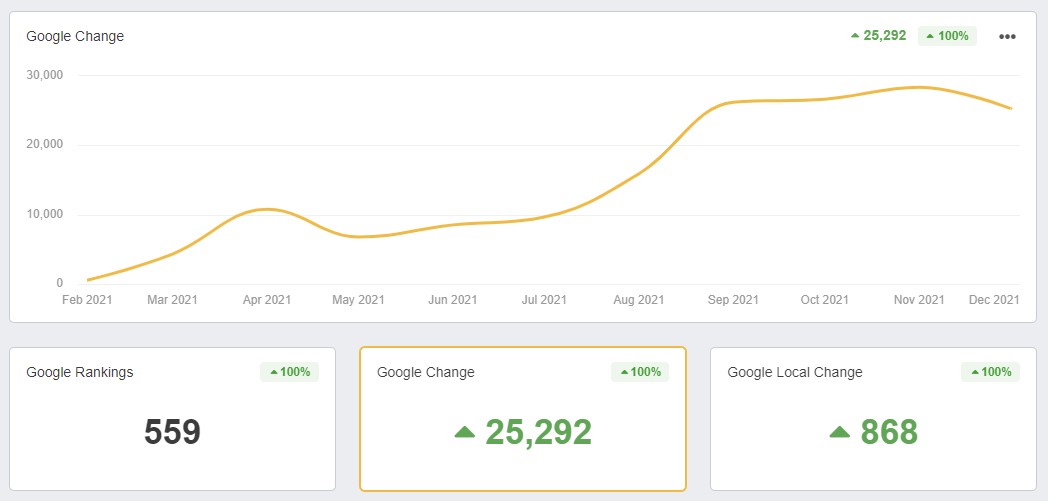 A Busy Year In SEO
This past year in SEO was about as up and down as it was in real life. We saw several major changes in Google relating to local listing, ecommerce, links, product reviews, and broad core updates. Working with clients across a lot of different industries and market sizes gives us a glimpse across the ecosystem to see what impact these changes have had on SEO over the past year. The best graphics can be got by graphic services. People can click here to know more about graphics here!
As in most recent years, Google made significant updates just about every month, including several broad core updates. With the named updates and the unconfirmed updates, we saw at least 30 or more changes that created volatility in the search results.
Here is a chart of the updates from OnCrawl. You can see in their visualization that these updates covered a good portion of the year.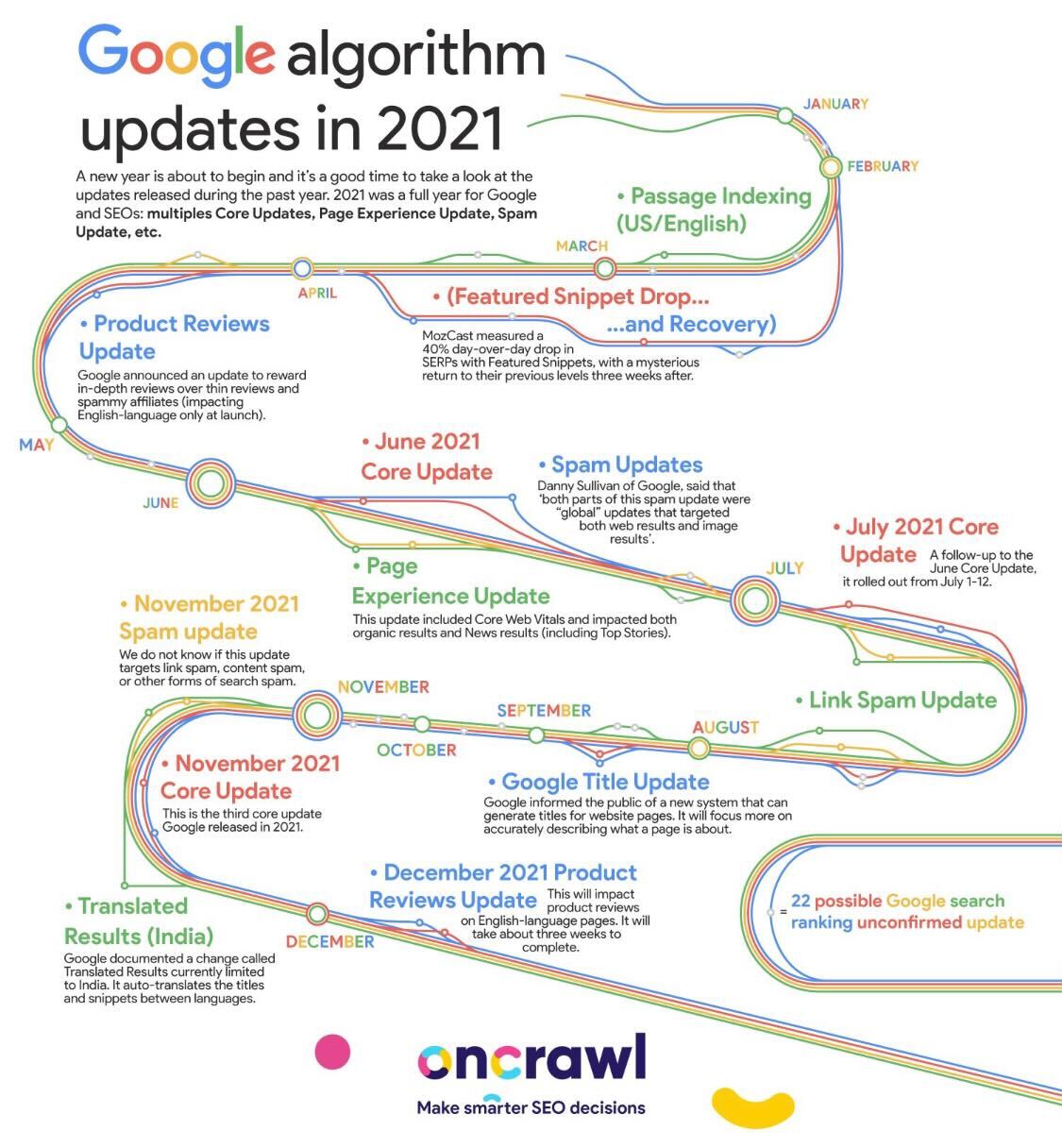 With so many changes occurring, how can you possibly keep up?
That's a great question and one that we'll specifically address here. I won't dive deep into each update, but rather we'll look at what direction Google is moving in and how we can stay on the same path.
Updates Don't Impact Every Website
First of all, it's important to note that not all of these Google updates affect every site. That's a major takeaway here. For small service-based local businesses, it's not likely that the product reviews update or the link spam update had a direct effect on their websites (unless they had used link schemes, but that's unlikely). Each update focused on a particular segment or initiative, except for the broad core updates. These broad core updates are more general updates in nature and can affect a wider range of sites and results.
Google has also said that you "can't optimize for a broad core update, as there isn't anything to fix". While that is mostly true technically, it leaves more questions on how to manage ranking changes through broad core updates than it does to provide any guidance. So here we go.
Aligning With Google's Mission
We're going to make some broad observations, then see how actionable we can make these.
First, we'll break down the main point of a broad core algorithm update. We know the purpose is to improve the overall quality of the search results. So we have to ask ourselves, what is Google's mission here, and how do they define "quality"?
Some will point you to the Quality Raters Guidelines which is a good place to start.
Google's official mission statement is "… to organize the world's information and make it universally accessible and useful."
I'll take this a little different route, and I'm going to rewrite Googles' mission statement based on what we've seen them do in updates over the past few years.
Google aims to provide users with the most relevant results from the most credible sources as quickly as possible while reducing the impact of spam techniques.
If you disagree with that statement, then what we do next won't matter much. But if we can agree that is at least the mission behind the updates, then we can make some judgments on how to stay in step with Google.
So let's break down this proposed mission into its actionable parts.
Relevant results. To be ranked in Google you have to be relevant to the query. A good seo company have to help the user accomplish their search goals. For local businesses, this means having strong signals that suggest you are a local business providing the services that are being searched for. For ecommerce, it's having a thorough product listing that helps the user decide if your product meets their needs. Relevance is based on user intent, and if our websites can communicate that we match the user's search intent with a relevant answer to their query, we have a chance to compete in the search results.
So relevance can be content, categorical or proximity (for local businesses), product availability and prices, in-depth landing pages covering topics and related subtopics, recency (query deserves freshness), and accuracy. All of this can affect relevance based on the search query.
If our goal is to become the most relevant result, we have to be thorough and comprehensive in how we describe and sell our products and services. Give the user everything they need to accomplish the intent of their search.
Credible sources. What is a credible source from Google's perspective? Well, it has to be algorithmically measured, so we look for signals that point to trustworthiness and credibility. That may be links from other websites, the authors of the content, citations from other websites (including local citations), reviews and testimonials (as well as local business listing reviews), and prominence.
There is a lot of info on Expertise, Authority and Trust (EAT) that may play a role here, but those are subjective ideas. We are specifically looking at the measurable items we can influence to affect our credibility as defined by what Google can measure.
If we can attract links from other websites, gather citations, build reviews, and be a resource for others, then we begin to attract signals that point to credibility. The need for credibility rises in categories affecting your money or your life (YMYL), and the number of signals needed to be found can vary from topic to topic. The takeaway here is to find ways to naturally improve these metrics.
As quickly as possible. This can point to speed and performance, but that isn't quite it. This is more about searcher accomplishment as I see it. The faster Google can get answers in front of their users that answer their queries, the more likely those users are to keep coming back to Google.
So the results have to match user intent. When you pull results from relevant and credible web pages, the likelihood is that a user will find what they are looking for. The same goes for Google Ads (not surprisingly). Google Ads uses a similar model of quality score to give more weight to ads that are more relevant and better match a user's query. If we can become one of these relevant and credible results, we can earn more organic rankings.
Reducing the impact of spam techniques. This approach by Google is to identify ways that people are manipulating ranking factors and reduce their impact. This can be centered on what links count and how they count, what type of content is considered quality, and so many things. If we understand what Google wants (relevance and credibility) and we know what they don't want (unnatural attempts to increase rankings), then we can (fairly) confidently create strategies to help us move in the same direction as Google as it pertains to organic results.
One major takeaway here is that if we stick to strategies that move in the same direction as Google, we don't have to worry as much about these updates.
I wish that were 100% true.
Increased Volatility
One of the frustrating things about all these updates and their frequency is increased volatility. We sometimes see major dips, huge increases, and normalizations after updates. This can cause anxiety for both SEOs and clients.
Take this example.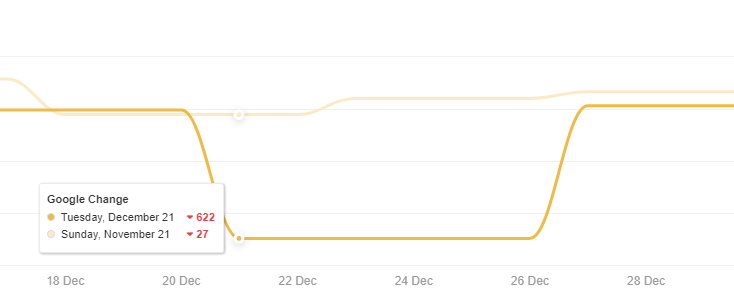 On December 21, 2021, this website lost 622 ranking positions, 3 days before Christmas. With no explanation as to why. We get a frantic email about it, and we have to reassure the client and gently say "let's wait and see if this is actionable, because we can't see a root cause of a rankings drop". Six days later, on December 27th, rankings came back to where they were before.
So how do we explain this type of volatility to our clients?
I think this is becoming the new norm. This is one example of many throughout the year that we saw major declines, or even major increases, with normalization following not long after.
We also have to always have a big picture mindset. Rankings are looking more and more like the stock market, with pretty rapid fluctuations at times, but we can't lose sight of the big picture.
Here's the same client with a full year's view. Yes, short-term blips can be cause for concern, but we also have to focus on the big picture of long-term growth and doing the right things over time. We can't control Google, and we certainly don't control the rankings timeline, but we do have influence, and we have to stack wins until we get rewarded with the new quality signals.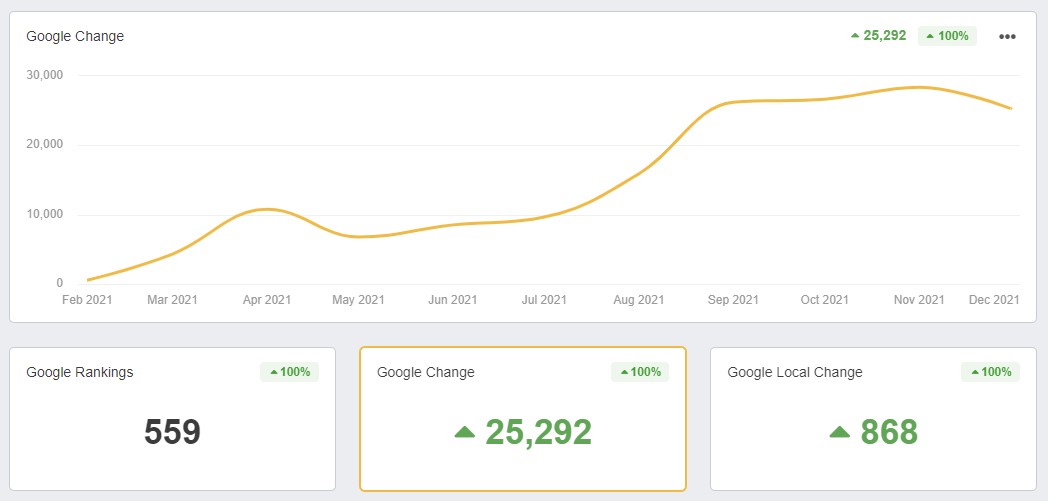 SEO Moving Forward Into 2022
So what does this mean moving forward? I don't think the frequency of Google updates is slowing down. This is new normal, and it has been for a few years now. But this year seemed to have more ranking volatility than previous years. As SEOs, we have to be in tune with what Google is doing and understand their velocity (what their speed and direction are).
I think this opens the door for more opportunities, as businesses are going to continue to need guidance as to how to position themselves in a dynamic environment. With the landscapes of both their competition and Google on the move, we have a responsibility to understand how our clients fit into that environment to help them grow and maintain search market share.
We are doubling down on competitive intelligence (more on that in a future post) and pushing the boundaries on relevance and credibility signals. We'll continue to stack wins and improve the metrics that affect those ideas to keep moving in the right direction. And we'll keep monitoring, testing, and analyzing Google changes to identify new tactics and what is actionable from these updates based on the types of sites they affect.